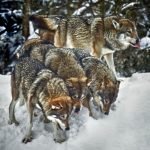 Answer to the Ministry of Agriculture and Forestry
Published 29th September 2016 by Maaseudun Tulevaisuus.
ANC Tapiola and RA Suomen Susi 2013 express their gratitude to The Ministry for their audience. It is unusual to have a conversation via media but organizations are quite happy with the arrangement. The debate should be more out in the open instead of hiding it in cabinets.
A study made by geneticists and mathematicians in Stockholm University shows through a mathematical modeling of the Fennoscandian metapopulation that the number of wolves required to attain genetic sustainability is 800. It is not a matter of an opinion. Organizations have no influence on results of independent scientific studies regardless of the fact that the Ministry finds them uncomfortable.
The Ministry is responsible for the development of how the wolf population can reach favorable conservation status. The target is far away: the minimum amount of breeding pairs does not secure the existence of the species. The Finnish wolf population has not reached favorable status during the 21st century. It has constantly degenerated as a result of ineffective administrative and political acts.
Now it is time for the Ministry to examine the biology of wolves: they do not reproduce "explosively", as wolf territory requires shelter and food. Organizations have brought out several means of damage control and co-existence of humans and wolves in their statements. They are also listed in the Wolf Management Plan (2015) but the management has concentrated on hunting instead of other efforts. We recommend that the Ministry become familiar with our statements.
In principle, organizations do not oppose sustainable and reasonable hunting of any vital game species.
Leena Iivonen, ANC Tapiola                                                           Carina Lintula, RA Suomen Susi 2013
Related: Conservation organizations in Finland demand the government to put an end to wolf hunting
And  Sami Niemi, the Ministerial Adviser at Ministry of Agriculture and Forestry: 800 wolves is an unbearable thought by Maaseudun Tulevaisuus. See translation below.